BerZuBa 2014
[BerZuBa 2007] - [BerZuBa 2008] - [BerZuBa 2009] - [BerZuBa 2010] - [BerZuBa 2011] - [BerZuBa 2012] - [Mealticket memorial] - [BerZuBa 2013] - [BerZuBa 2014]
BerZuBa Halloween 2014
October 31st-November 2nd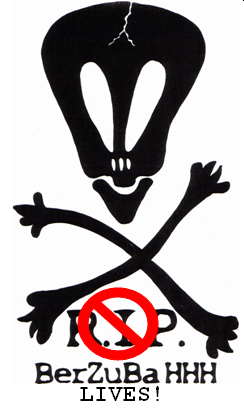 Where?
This year we will be in Bläsimühle. More details coming soon but if you're keen, then you can already sign up!
See who's coming.
How much?
| | |
| --- | --- |
| Until October 20th | 160CHF |
| From October 21th, and at the door | 185CHF |
You are not registered until you have paid!
What to bring?
Apart from the travel coffin, pet spider, collapsible UFO and other indispensable Halloween items we suggest you bring the following:
Travel ghost sheet, also known as a towel (only needed if you intend to have a shower at the weekend)
Torch light - (so you Brits can actually see who you want to scare)
Flash light - (so you Yanks can actually see who you want to scare)
Painkillers or other hangover cures (a guillotine is known to effectively remove headaches in seconds)
House shoes (Clean indoor shoes will be best because the house is old and the heating system as well.
Slippers not so good because of slippery stairs)
Travel pillow (not applicable for head-less zombies)
Sleeping bag (or collapsible coffins, UFOs or extra warm spider webs depending on your preferences)
Costumes (one for Friday and one for Saturday)
Rain gear (Swiss weather can decide to rain on your parade)
Drinking vessel (help us save the environment we hash in and reduce the garbage load)
Warm clothing (it might get cold and you need to cover your goose bumps)

Questions?