BerZuBa 2017 is alive and kicking
[BerZuBa 2007] - [BerZuBa 2008] - [BerZuBa 2009] - [BerZuBa 2010] - [BerZuBa 2011] - [BerZuBa 2012] - [Mealticket memorial] - [BerZuBa 2013] - [BerZuBa 2014] - [BerZuBa 2015] - [BerZuBa 2016] - [BerZuBa 2017]
BerZuBa Halloween 2017
October 27th - 29th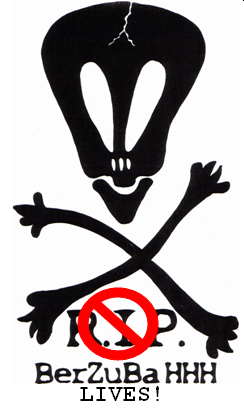 Where?
The venue is the Scout home, Rothburg in 4662 Aarburg, right in the middle of the BerZuBa Triangle!
Pfadiheim
Steinrain 9
4662 Aarburg
Getting there...
Coming soon...
How much does it cost?
| | |
| --- | --- |
| Pay before October 1st: | 150CHF |
| Pay before October 24th: | 175CHF |
| Pay after October 24th or at the door: | 200CHF |
Remember: you are not registered until you have paid.
Maximum number of people is 40, after that you will be put on a waiting list.
How can I register?
Sign up here...
Be aware that you are not considered registered until you have paid!
See who's signed up...
What do I need to know?
Sleeping facilities: 2 dormitory rooms, 1 non-snorer room.
Note: There is no camping allowed! There are no single/double rooms so don't ask! Check Google maps for hotels close by (editor's note: two nearby). If you stay at a hotel, your rego fee will be reduced by 24CHF.
Bring sleeping bags, bottom sheet and pillow – we are checking this information so be prepared for an update.
Questions?