BerZuBaYard 2011
[BerZuBa 2007] - [BerZuBa 2008] - [BerZuBa 2009] - [BerZuBa 2010] - [BerZuBa 2011] - [BerZuBa 2012] - [Mealticket memorial] - [BerZuBa 2013] - [BerZuBa 2014] - [BerZuBa 2015] - [BerZuBa 2016] - [BerZuBa 2017] - [BerZuBa 2018] - [BerZuBa 2019] - [BerZuBa 2021] - [BerZuBa 2022] - [BerZuBa 2023]
[BerZuBa Run History] - [BerZuBa Photos - 2007]
BerZuBaYard Halloween 2011
October 28th-30th
Riazzino, Switzerland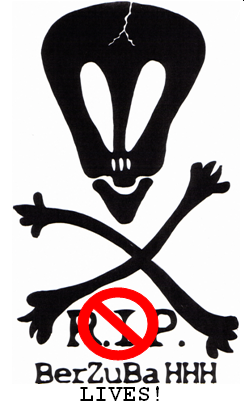 For the second time this millennium, BerZuBa and the Frankfurt Vineyard Hash are coming together for a special co-event!!!!!! Don't miss this weekend, the second BerZuBaYard Hash!
How do I get there?
Coordinates for your GPS: 46.174964°N 8.897430°E. The venue's address is Via Riazzino 21 - the motel's website is not entirely clear on the matter, so take note.
By public transport, take the train to Riazzino, via either Bellinzona or Locarno. From Riazzino station it's around an 800m walk (follow flour) to the venue.

Timetable
Hint: you can drag the map to move it around, click the +/- buttons to zoom in/out.
What should I bring?
Your costumes (Disco Zombie for Friday, your choice for Saturday)
A drinking vessel if you have one
A lanyard for your nametag (something to hang around your neck and attach the tag to)
Earplugs
Pain relievers for your hangovers
The BerZuBa boom box plays CDs and iPods so bring some music to share for the dancing!
The venue is a motel: bedding is provided. Towels are provided.
YOU DO NOT HAVE TO BRING BEDDING OR A SLEEPING BAG!!!!!!!!
Bring a beach towel if you plan on using the swimming pool.
Who's coming?
Check out who came?
Event details...
28 October - Friday
Registration will start around 16:00 or 17:00ish, when the committee arrives. Beer will be on tap and readily drinkable, so no rush. Dinner (spaghetti buffet with several sauces) will be from 19:00-20:30, but if you arrive late, you will still be able to eat. This year's Friday night Hash/Circle/Party will have the very groovy theme of "Disco Zombies!" Dig out those horrendous outfits you thought you'd thrown away and get ready to boogy! There will be make-up on hand to assist in your zombification, but if you have special needs, bring it along. The walkers/runners trail starts at 20:45 and there will be a drink stop! Special recognition for the best disco zombie will be awarded in the circle (a dance contest?), which will begin promptly at precisely somewhere around 22:30ish. NOTE: if you are arriving late sometime around 21:00, we will likely be at the beer stop. Trail will be marked from the venue.
29 October - Saturday
Breakfast is from 8:00-9:30. Then from 9:00-10:00, get yourself to the sandwich-making room if you wish to have a lunch to eat later. The Runner's Trail will start at exactly 10:30 (this is Switzerland, neh?). THE RUNNER'S TRAIL IS NOT PRAM/BUGGY FRIENDLY!!!!!!! Please do not try to bring a pram/buggy/kid on the first section of the Trail. It is borderline ballbreaker. Walker's will be shuttled to the first stop to meet up with the runners and begin Trail and don't worry, you won't be disappointed. Trail (walkers and runners) will then continue with food, beer, beer, and a wine degustation. The rest of the trail is a bit friendlier to pram/buggy owners, but there will be a fair amount of stairs and steep downhill at first. If you're not sure how to proceed, speak to TailGate or aMnesia.
The most feared Circle in the galaxy will start at 18:00 promptly. DO NOT MISS THIS CIRCLE OR THERE WILL BE REPERCUSSIONS!!!!! Dinner at 20:30ish and then after dinner, down into the Cellar for the BerZuBaYard 2011 Halloween Party! Costumes a MUST!!!!!!
30 October - Sunday
Breakfast is from 8:00-9:30. Sandwich-making will take place from 9:00-10:00. Make sure to pack up your luggage and be ready to leave the venue by 10:20. If you are by car, you will need to head to the Bellinzona train station (directions will be given this weekend). For those who can't fit in a car, we will be taking the 10:41 train to Bellinzona. Bags can be left in the cars or in the lockers at the station. Trail will start at 11:00ish and will be a very special treat so make sure you're there! After the lunch/closing circle, go find a nice, moist spot to bury yourself until next year.