BerZuBaVania 2012
[BerZuBa 2007] - [BerZuBa 2008] - [BerZuBa 2009] - [BerZuBa 2010] - [BerZuBa 2011] - [BerZuBa 2012] - [Mealticket memorial] - [BerZuBa 2013] - [BerZuBa 2014] - [BerZuBa 2015] - [BerZuBa 2016] - [BerZuBa 2017] - [BerZuBa 2018] - [BerZuBa 2019] - [BerZuBa 2021] - [BerZuBa 2022] - [BerZuBa 2023]
[BerZuBa Run History] - [BerZuBa Photos - 2007]
BerZuBaVania Halloween 2012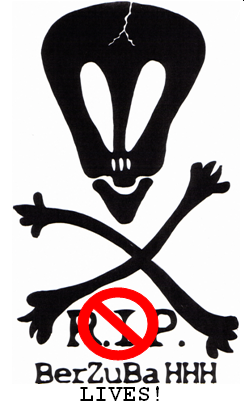 For 2012, we have decided to take BerZuBa to the roots of Halloween and go to Transylvania - hereby announcing BerZuBaVania!
We will be staying near Brasov.
How to get there?
Check skyscanner for cheap flights to Bucharest.
There will be ONE coach taking hashers from both Bucharest airports, some time in the afternoon of 26th,
and ONE coach taking us back to the airports on 28th. The exact time of the these trips will be fixed nearer to the event.
The coach will also take us around during the weekend. Places in the coach are limited to 50.
Who's coming?
Check out who's coming...
How much?
| | | |
| --- | --- | --- |
| Early Bird | First 20 hashers to register AND PAY | CHF 200 |
| Regular | Next 15 hashers to register AND PAY | CHF 220 |
| Last-minute | Final 15 hashers to register AND PAY | CHF 240 |
Please do note that you are only eligible for a given price category when you pay, not when you register.
How can I register?
Here's the rego form and payment info link (payment details coming soon).
What should you bring?
Bedding: the venue provides bedding and towels
Costume: a Zombie costume for Friday's BerZuBa Halloween Pub Crawl plus a costume for Saturday night's Halloween Ball (theme: your favourite celeb as a zombie or as another hasher.s zombie).
Other things to bring: A flashlight (torch), A drinking vessel if you have one, pain relievers (for your hangovers).
If you bring cash: USD, CHF, EUR has good exchange rates (NOT in the airport - we will have a pit stop on the way to or in Brasov for that). Credit cards are accepted and it is safe using them while in Romania.
What should you expect?
Friday
3pm - Berzuba party bus leaves from the OTP airport.
Party, beer, snacks, beer, snacks, beer, sandwiches, more beer on the way to Brasov
Allocation of rooms and handing over of your room key
Pub Crawl and meal in Brasov. You will have a budget of Romanian money which will be enough for a hash standard meal and drinks.
Circle (before or on the bus on the way to the venue - depending on weather, time and general drunkenness).
Saturday
Breakfast from 9:00-10:00, or something like that.
Trail starts at 10:30-11:00. This year's trail will feature lots of cool stuff and will include surprises (options for daredevil hashers). There will be a walking trail as well.
The world-famous BerZuBa circle from Hell!
Dinner will be served when it's ready: ROASTED PIG and
The infamous BerZuBa Halloween Costume Ball!
- with DJ, good music and prizes for best and worst costumes. Show up not in costume and you'll regret if for the rest of your life.
Sunday
Early Breakfast from 8:30 to 9:30 latest.
The bus will leave by 10:00.
The Hangover Run starts about 10:30 - 11:00
- Be already packed for Bucharest BEFORE the run!!!
The coach will take us to the Rasnov Fortress, where we will have the hangover run, followed by a farewell circle and lunch.
The party bus will leave for the airport at around 12pm.
Other important details
Please inform us about your flight numbers and times. If you want to be on the bus you should not book a flight that arrives in Bucharest after 14:30 on Friday or leaves before 16:00 on Sunday. If you are flying from Switzerland, hashers already found this website helpful. There are no low cost flights from CH.
If you can't join the bus a taxi would be about CHF100 one way.
Berzuba luxury: this year we have many 2-4 person rooms. Hashers can choose with whom they want to be in a room, just let us know and we will do our best.
Romania is worth staying a night or 2 before and / or after the event. The Berzuba venue would be happy to have people for extra days at hash-friendly prices. If you.d like a night or 2 in Bucharest the Noblesse is hasher-friendly in a convenient location between airport and city.
Questions?