BerZuBa 2010
[BerZuBa 2007] - [BerZuBa 2008] - [BerZuBa 2009] - [BerZuBa 2010] - [BerZuBa 2011] - [BerZuBa 2012] - [Mealticket memorial] - [BerZuBa 2013] - [BerZuBa 2014] - [BerZuBa 2015] - [BerZuBa 2016] - [BerZuBa 2017] - [BerZuBa 2018] - [BerZuBa 2019] - [BerZuBa 2021] - [BerZuBa 2022] - [BerZuBa 2023]
[BerZuBa Run History] - [BerZuBa Photos - 2007]
BerZuBa Halloween 2010!
Balsthal, Switzerland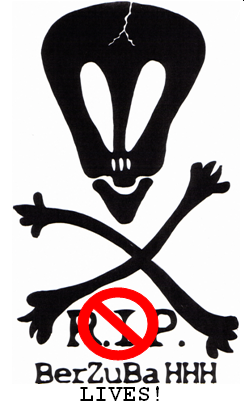 Save the date: October 29 - 31 2010
Where?
This venue was discovered in 1999 and lo the party was hard. We survived the Y2K virus and went back AGAIN in 2000. After venturing on to unexplored territory, we didn't go BACK again until 2003. Thus it's once again time to go B-B-B-BACK TO BALSTHAL!!!!!!!!!!!
Accommodation?
We have rented an entire house with room for maximum 45 Hashers! It has multiple-bed rooms and space for tents.
Rooms will not be assigned, they'll be designated (for example, snoring, non-snoring, harriette only, etc.)
How do I get there?
Coordinates for your GPS: 47.317787°N 7.721280°E.
Hint: you can drag the map to move it around, click the +/- buttons to zoom in/out.
What about public transport?
Timetable
Who came?
Check out who came...
How can I register?
Too late - try again next year...
What should I bring?
Bedding: the venue provides a mattress cover, a pillow with cover and a scratchy wool blanket. Mismanagement recommends bringing a sleeping bag or duvet/comforter.
Costume: a costume for Saturday's BerZuBa Halloween Party plus a costume for Friday night's Zombie Ball (theme: come dressed as another hasher as a zombie)
Other things to bring: A flashlight (torch), a towel, pain relievers (for your hangovers), house shoes to wear indoors!
What should I expect?
Friday: Registration opens at 17:00, followed by beer, snacks, beer, snacks, a Trail starting at sometime before midnight and our 4th Annual Zombie Ball. Come dressed as ANOTHER Hasher as if he or she had died 20 years ago and had recently crawled from the grave just for this party! So for example, Chainsaw dressed as Likk'mm with half his face full of maggots and blood pouring out of his ears! Costumes on Trail are a must! But trying to climb over barbed wire fences in the nearby cow pastures to shortcut on Trail is a definite no-no! Remember-Zombies feel no pain, but the you underneath will! ALERT!!!!! There will only be soup on offer so eat something before you arrive!
Saturday: Breakfast from 9:00-10:00, or something like that. Trail starts at 10:30-11:00. This year's Trail will feature great views, Sunny weather, ups and downs, as well as what the European Hashing World has long been waiting for-the Hash Wedding of the year! Don't miss this chance to see BerZuBa's beloved 2Bit Slit and Beer Bra test their prowess, their charisma, their talents, their SENSE OF SELF as they attempt to make it to the ceremony. Curious? Make sure you're on Trail to find out what the heck all that means. The Trail will be followed by the world-famous BerZuBa circle from Hell, in which the bride and groom (if they make it this far) will tie the knot for once and for ever! The legendary BerZuBa Halloween Party starts after dinner. This year's theme: Corpse Bride: gettin' hitched in hell!
Sunday: Breakfast from 9:30-10:30, or something like that. The Hangover Run starts about 11:00, followed by a farewell circle and lunch. After all that, pack up your stuff and find a nice, moist spot to bury yourself until next year.
Cost for the weekend...
Early-bird rate (must pay before October 20th)
160 CHF
Special early-bird rate
This is for anyone who attended last year's
BerZuBa (must pay before October 20th)
140 CHF
Hashers paying after October 20th,
including on the door:
185 CHF
If you do not have swiss francs, please make the appropriate conversion, rounding up as necessary.
Here's how to pay.
Questions?