BerZuBa 2013
[BerZuBa 2007] - [BerZuBa 2008] - [BerZuBa 2009] - [BerZuBa 2010] - [BerZuBa 2011] - [BerZuBa 2012] - [Mealticket memorial] - [BerZuBa 2013] - [BerZuBa 2014] - [BerZuBa 2015] - [BerZuBa 2016] - [BerZuBa 2017] - [BerZuBa 2018] - [BerZuBa 2019] - [BerZuBa 2021] - [BerZuBa 2022] - [BerZuBa 2023]
[BerZuBa Run History] - [BerZuBa Photos - 2007]
BerZuBa Halloween 2013
November 1st-3rd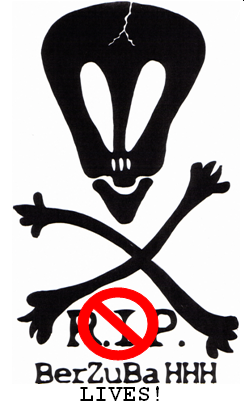 Where?
After two years of BerZuBa being on the road, we're back in The Triangle! The venue is in Köniz, a 10 minute bus ride from the Bern Train Station.
Accommodation?
We have rented an entire house with room for maximum 50 Hashers! It has multiple-bed rooms and space for tents.
Rooms will not be assigned, they'll be designated (for example, snoring, non-snoring, harriette only, etc.)
What should I bring?
Your costumes (Zombie Fairy Tale Ball for Friday, your choice for Saturday)
A drinking vessel if you have one
A lanyard for your nametag (something to hang around your neck and attach the tag to)
Earplugs
Pain relievers for your hangovers
The BerZuBa boom box plays MP3 players (iPods, iPhones, etc.) so bring some music to share for the dancing!
SLEEPING BAG, MATRESS COVER AND PILLOW-the venue is a scout house; it's newly renovated with decent sleeping arrangements (5-6 sleeping rooms), but it's still a scout house....
There is space to camp so if you want to camp, bring your tent... duh!
Who's coming?
Check out who's coming...
How do I get there?
By train: get to the train station in Bern, Switzerland. Exit the train and follow the signs for CITY. Leave the platform and go down into a concourse, continue to follow signs for the city. At the end of the concourse (after signs for Track 1), follow the sign pointing up & to the right, for city with a pictogram of a bus/tram. Go up the escalator and straight out the main door of the train station. Cross the street toward the huge, wavy glass roof over the tram stops. Go past the tram stops toward a large UBS bank building. If you're taking the bus between 18:40 and 21:15, look on the left side of the bank building for Perron K (which is platform K). If you're taking the bus at any other time, it leaves from Perron I which is on the street 90 degrees left from the UBS building (Schauplatzgasse) which you will see between the two stores marked Loeb. Before you get on Bus #10 to Köniz Schliern, you will have to buy a ticket from the red ticket machine (you cannot buy a ticket from the driver; there are often checks by officials and the fine for not having a ticket is heavy).
Tickets: on the bottom right is a button to change the language to English. After that, select single ticket zones 100 101. It will cost CHF 4.20 unless you have a Swiss half-price pass in which case it is 2.80). You can add more tickets at the bottom with the button "Number of tickets". You can pay at any time you see the red field with the words "Pay now or modify ticket". Machines take Swiss Francs (CHF) coins or credit/debit cards. Tickets are only valid for one hour so don't buy it until you need it. Get off the bus: after about 13 minutes, get off at the stop Köniz Schloss. Walk back toward the circle and turn left on Schwarzenburgstrasse. Pass the school and its parking lot. About 80 meters along on the left is another parking lot. At the far end of it is a small road (it may have a barrier over it). This road is called Pfadiweg and it parallels the street you were just walking on. Go up the road about 100 meters to the venue.
By car: if you have a GPS, you can put in Pfadiweg 25, 3098 Köniz. If it is not in your GPS, try the Restaurant Bären at Schwarzenburgstrasse 320, 3098 Köniz. Then see the instructions below to drive the last 100 meters. If you don't have a GPS, get to Switzerland and follow the directions for Bern, basically the A1 Autobahn. From the north, you will drive over a hill with the Grauholz rest area on the right. Bern will be laid out ahead of you with the mountains to the left (if they are out). As you come down the hill, stay in the middle or right lanes. Follow the A1, direction Genève / Lausanne / Fribourg / Neuchâtel. After about 3km, pay attention! Stay in the right 2 lanes and follow the A12 to Gd.-St. Bernard / Vevey / Fribourg / Bern-Bümpliz. Continue another 500 meters and take the exit Bern-Bümpliz where you will finally see Köniz. Stay in the right lane, and continue following the signs for Köniz, about 1.2km. First you'll go through some woods, then a circle then a light or two, then another circle, then cross the railroad tracks where ahead of you is a circle and a red and white sign with Denner on it. At this circle you are now in Köniz so follow the signs to Schwarzenburg. Be very, very careful as the first stretch of Köniz is marked by large, blue sculptures of the letter 'n' walking which means there are no pedestrian crossings, the speed limit is 30kph and people just walk out into the street whenever they want!!! After about 300 meters you will enter a circle with the Restaurant Bären on the right. Follow the sign to Schwarzenburg but be prepared. First you will pass a school with a parking lot and after about 80 meters there is a parking lot on the left. Pull in there! At the end of this parking lot is a small road (it may have a barrier over it). This is Pfadiweg and runs parallel to the street you were just driving on. There is a large parking lot at the beginning of Pfadiweg which is, unfortunately, closed to traffic. Please park in the lot and carry your stuff to the venue. It's about 150 meters with a minor incline. There is a cost for parking: Friday until 19:00, Saturday from 7:00 to 16:00, no charge on Sundays. Bring CHF coins!
Event details...
Friday November 1st
Registration will start around 16:00 or 17:00ish, when the committee arrives. Beer will be on tap and readily drinkable, so no rush. A light dinner (soup & bread) will be from 19:00-20:30, but if you arrive late, you will still be able to get some. This year's Friday night Hash/Circle/Party will have the very spooky theme of "Zombie Fairy Tale Ball", so come dressed as your favourite Fairy Tale character as a Zombie and get ready to scare the locals! There will be make-up on hand to assist in your zombification, but if you have special needs, bring it along. The Trail starts at 20:45 (costumes mandatory!) and there will be a drink stop where we can show off how scary we are. Special recognition for the best costume will be awarded in the Circle, which will begin promptly at precisely somewhere around 22:30ish. NOTE: if you are arriving sometime around 21:00, we will likely be at the beer stop. Trail will be marked from the venue or call one of the contact numbers to find where we are.
Saturday November 2nd
Breakfast is from 8:30-10:00. From 9:00-10:00, get yourself to the sandwich-making room if you wish to have a lunch to eat later. The Runner's/Walker's Trail will start at exactly 10:30 (this is Switzerland, neh?). More info. closer to the event. There will be up. And there will be down, with probably some flat in there as well as other cool stuff, including lunch and beerstops. The most feared Circle in the galaxy will start at 18:00 promptly. DO NOT MISS THIS CIRCLE OR THERE WILL BE REPERCUSSIONS!!!!! Dinner at 20:30ish and then after dinner, the BerZuBa 2013 Halloween Party! Costumes a MUST!!!!!!
Sunday November 3rd
Breakfast is from 9:00-10:30. Trail will start at 11:00ish. After the lunch/closing circle, go find a nice, moist spot to bury yourself until next year.
Questions?
Berzuba prelube run
Zürich H3 #777: Spirits for the spirits - Thursday, October 31 2013, 7pm!