BerZuBa 2009
[BerZuBa 2007] - [BerZuBa 2008] - [BerZuBa 2009] - [BerZuBa 2010] - [BerZuBa 2011] - [BerZuBa 2012] - [Mealticket memorial] - [BerZuBa 2013] - [BerZuBa 2014] - [BerZuBa 2015] - [BerZuBa 2016] - [BerZuBa 2017] - [BerZuBa 2018] - [BerZuBa 2019] - [BerZuBa 2021] - [BerZuBa 2022] - [BerZuBa 2023]
[BerZuBa Run History] - [BerZuBa Photos - 2007]
BerZuBa Halloween 2009!
Zollikofen, Switzerland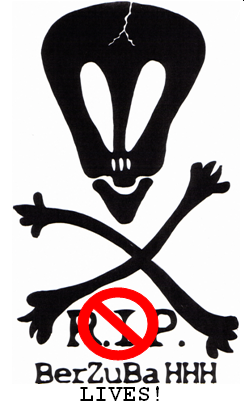 Save the date: October 30 - November 1 2009
Where?
This year's BerZuBa venue is located near Zollikofen, Switzerland.
Accommodation?
We have rented an entire house with room for maximum 45 Hashers! It has multiple-bed rooms and space for tents.
Rooms will not be assigned, they'll be designated (for example, snoring, non-snoring, harriette only, etc.)
How do I get there?
Coming soon...
Hint: you can drag the map to move it around, click the +/- buttons to zoom in/out.
What about public transport?
Coming soon...
Timetable
Who's coming?
Check out who's coming...
How can I register?
Here's the rego form.
What should I bring?
Bedding: the venue provides a mattress cover, a pillow with cover and a scratchy wool blanket. Mismanagement recommends bringing a sleeping bag or duvet/comforter.
Costume: a costume for Saturday's BerZuBa Halloween Party plus a costume for Friday night's Zombie Ball (theme: your favourite celeb as a zombie)
Other things to bring: A flashlight (torch), a towel, pain relievers (for your hangovers), house shoes to wear indoors!
What should I expect?
Friday: Registration opens at 17:00, followed by beer, snacks, beer, snacks, a Trail starting at sometime before midnight and our 3rd Annual Zombie Ball. Come dressed as your favourite celebrity-turned zombie! So for example, Elvis with half his face full of maggots and blood pouring out of his ears! Costumes on Trail are a must! This evening will NOT include jumping into the river, even if the locals set you on fire. Remember-Zombies feel no pain, but they also are not waterproof! ALERT!!!!! There will only be soup on offer so eat something before you arrive!
Saturday: Breakfast from 9:00-10:00, or something like that. Trail starts at 10:30-11:00. This year's Trail will feature lots of cool stuff and will NOT include jumping into the river, no matter how persuasive the voices in your head tell you it's a good idea! The trail will be followed by the world-famous BerZuBa circle from Hell! The official BerZuBa RA Chainsaw has been dethroned at his local Hash, so we are sure he will arrive with a lot of pent-up down-downs in store to quench our thirst! Dinner will be served when it's ready, followed by the infamous BerZuBa Halloween Costume Party! Prizes for best and worst costumes. Show up not in costume and you'll regret if for the rest of your life.
Sunday: Breakfast from 9:30-10:30, or something like that. The Hangover Run starts about 11:00, followed by a farewell circle and lunch. After all that, pack up your stuff and find a nice, moist spot (the river?) to bury yourself until next year.
Cost for the weekend...
Early-bird rate (must pay before October 20th)
160 CHF
Special early-bird rate
This is for anyone who attended last year's
BerZuBa (must pay before October 20th)
145 CHF
Hashers paying after October 20th,
including on the door:
185 CHF
If you do not have swiss francs, please make the appropriate conversion, rounding up as necessary.
Here's how to pay.
Questions?