BerZuBa 2017 is alive and kicking
[BerZuBa 2007] - [BerZuBa 2008] - [BerZuBa 2009] - [BerZuBa 2010] - [BerZuBa 2011] - [BerZuBa 2012] - [Mealticket memorial] - [BerZuBa 2013] - [BerZuBa 2014] - [BerZuBa 2015] - [BerZuBa 2016] - [BerZuBa 2017] - [BerZuBa 2018] - [BerZuBa 2019] - [BerZuBa 2021] - [BerZuBa 2022] - [BerZuBa 2023]
[BerZuBa Run History] - [BerZuBa Photos - 2007]
BerZuBa Halloween 2017
October 27th - 29th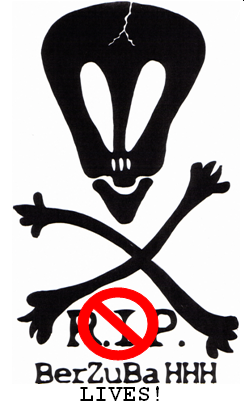 Where?
The venue is the Scout home, Rothburg in 4662 Aarburg, right in the middle of the BerZuBa Triangle!
Pfadiheim
Steinrain 9
4662 Aarburg
Getting there...
Read all about it in the 2017 flyer.
How much does it cost?
| | |
| --- | --- |
| Pay before October 1st: | 150CHF |
| Pay before October 24th: | 175CHF |
| Pay after October 24th or at the door: | 200CHF |
Remember: you are not registered until you have paid.
Maximum number of people is 40, after that you will be put on a waiting list.
How can I register?
Sign up here...
Be aware that you are not considered registered until you have paid!
See who's signed up...
What do I need to know?
Sleeping facilities: 2 dormitory rooms, 1 non-snorer room.
Note: There is no camping allowed! There are no single/double rooms so don't ask! Check Google maps for hotels close by (editor's note: two nearby). If you stay at a hotel, your rego fee will be reduced by 24CHF.
Bring a drinking vessel, sleeping bags, a flashlight/torch, a towel, some hangover cure and HOUSE SHOES!!
Provided: scratchy wool blanket. Not provided: bottom sheet, pillow.
Saturday party theme: "Halloween with a twist! Or with mixers!"
Either way, bring along some of the "spirits" that you want to exorcise from your shelves... That's right. Bring along any spirits that have collected dust on your shelves or even your favourite that is new and you just want to share... mixers and twists will be provided, but any specials, to compliment your spirit please bring too.
Find more information in the 2017 flyer.
Questions?