BerZuBa 2022
[BerZuBa 2007] - [BerZuBa 2008] - [BerZuBa 2009] - [BerZuBa 2010] - [BerZuBa 2011] - [BerZuBa 2012] - [Mealticket memorial] - [BerZuBa 2013] - [BerZuBa 2014] - [BerZuBa 2015] - [BerZuBa 2016] - [BerZuBa 2017] - [BerZuBa 2018] - [BerZuBa 2019] - [BerZuBa 2021] - [BerZuBa 2022] - [BerZuBa 2023]
[BerZuBa Run History] - [BerZuBa Photos - 2007]
BerZuBa Halloween 2022
November 4th-6th
Zweisimmen, Switzerland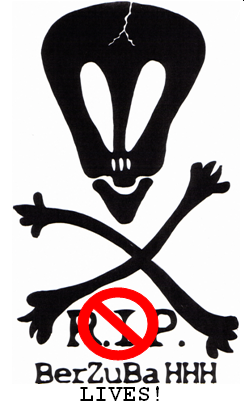 Details and rego info
We have booked the Ferienlager Musikhaus, a massive wood house with upwards of 20 different rooms of various sizes for sleeping. It's not our plan to fill the entire house so we will be able to keep at least one bed free in each room so as to increase your comfort.Bring your own sleeping bag or duvet.
PLEASE write to the mis-management if you'd like to be together with someone in a room. And please make sure that the person you are requesting to be with actually wants to be with you!
Sign up here. Forgot to save the payment information? Well it's there...
I'm in! How much?
| | | |
| --- | --- | --- |
| Early Bird: | CHF 210 | cough up by 01.07.2022 |
| Standard Rego: | CHF 220 | cough up by 01.09.2022 |
| Late Rego: | CHF 240 | cough up by 30.09.2022 |
| DFL Rego: | CHF 260 | cough up on or after 01.10.2022 |
Who's coming?
Check out who's coming.
Remember: you are not registered until you have paid!
Maximum number of people is 53 - after that you will be put on a waiting list.
Getting there
By car, or train, find your way here. If flying in to LSTZ, make sure to observe the PPR requirement and noise abatement procedures.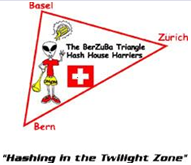 Special announcenment
For anyone also going up to the recently resurrected Frankfurt Vineyard Hash the weekend AFTER BerZuBa, there is a special Haberdashery item.
Questions? Confused? Mis-informed?
Write to the mis-management.