BerZuBa 2019
[BerZuBa 2007] - [BerZuBa 2008] - [BerZuBa 2009] - [BerZuBa 2010] - [BerZuBa 2011] - [BerZuBa 2012] - [Mealticket memorial] - [BerZuBa 2013] - [BerZuBa 2014] - [BerZuBa 2015] - [BerZuBa 2016] - [BerZuBa 2017] - [BerZuBa 2018] - [BerZuBa 2019] - [BerZuBa 2021] - [BerZuBa 2022] - [BerZuBa 2023]
[BerZuBa Run History] - [BerZuBa Photos - 2007]
BerZuBa Halloween 2019
October 25th-27th
Riazzino, Switzerland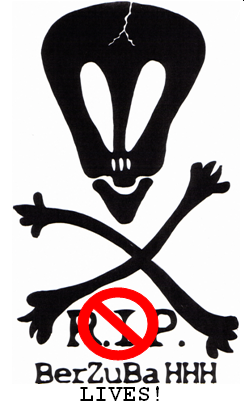 How do I get there?
Coordinates for your GPS: 46.174964°N 8.897430°E. The venue's address is Via Riazzino 21 - the motel's website is not entirely clear on the matter, so take note.
By public transport, take the train to Riazzino, via either Bellinzona or Locarno. From Riazzino station it's around an 800m walk (follow flour) to the venue.
What should I bring?
Your costumes (Disco Zombie for Friday, your choice for Saturday)
A drinking vessel if you have one
A lanyard for your nametag (something to hang around your neck and attach the tag to)
Earplugs
Pain relievers for your hangovers
The BerZuBa boom box plays CDs and iPods so bring some music to share for the dancing!
The venue is a motel: bedding is provided. Towels are provided.
YOU DO NOT HAVE TO BRING BEDDING OR A SLEEPING BAG!!!!!!!!
Bring a beach towel if you plan on using the swimming pool.
How can I register?
Tell us about yourself on the rego form...
How much is it anyway?
| | | |
| --- | --- | --- |
| Early Bird: | CHF 210 | cough up by 06.09.2019 |
| Standard Rego: | CHF 230 | cough up by 30.09.2019 |
| DFL Rego: | CHF 250 | cough up on or after 01.10.2019 |
Remember: you are not registered until you have paid!
Maximum number of people is 50 - after that you will be put on a waiting list.
Who's coming?
Check out who's coming.
Event details...
October 25th - Friday
17:00 Registration opens
19:30 Dinner (risotto, piccata, salad)
20:45 Chalk Talk for Friday Trail
21:00 Friday Trail wine-tasting!
23:00ish Circle
October 26th - Saturday
08:30 - 10:00 Breakfast
10:20 Chalk Talk
10:45 Runners take off!
10:54 Walkers catch Bus 311 (direction Locarno)
11:02 Get out at Tenero, Piazza and enjoy the sights for a bit.
11:44 Catch bus 321 (direction Sonogno)
11:52 Get out at Diga, Verzasca
12:15ish Lunch stop, Walkers & Runners together
16:30ish The BerZuBa Circle from Hell!!!!!!!!!
19:30ish Dinner (grill party à discretion)
21:00ish The 2019 BerZuBa Halloween Party!!!!!!!! Costumes mandatory!
October 27th - Sunday
08:30-10:00 Breakfast / Pack up your stuff
10:30 Chalk Talk
10:45 Start Sunday Hangover Trail
11:45ish Circle/Lunch/The End of BerZuBa 2019 - go find a nice moist spot to bury yourself until next year